The next person who calls it the "liberal Washington Post" really needs to have his or her head examined.
Fred Hiatt, the Washington Post's editorial page editor, has fired columnist Harold Meyerson, one of the nation's finest journalists and perhaps the only self-proclaimed socialist to write a weekly column for a major American newspaper during the past decade or two.

At a time when America is experiencing an upsurge of progressive organizing and activism — from Occupy Wall Street, to Black Lives Matter, to the growing movement among low-wage workers demanding higher minimum wages, to Bernie Sanders' campaign for president — we need a regular columnist who can explain what's going on, why it's happening, and what it means.

More than any other columnist for a major U.S. newspaper, Meyerson provided ongoing coverage and incisive analysis of the nation's labor movement and other progressive causes as well as the changing economy and the increasing aggressiveness of big business in American politics. He was one of the few columnists in the country who knew labor leaders and grassroots activists by name, and who could write sympathetically and knowledgeably about working people's experiences in their workplaces and communities.

Since Steve Greenhouse retired last year as the New York Times' brilliant labor reporter, no other major paper has a reporter who covers unions and working people on a full-time basis. Now with Meyerson's firing, there's not one weekly columnist who understands the ins and outs of organized (and disorganized) labor.
So why did Hiatt fire Meyerson? Here's a clue: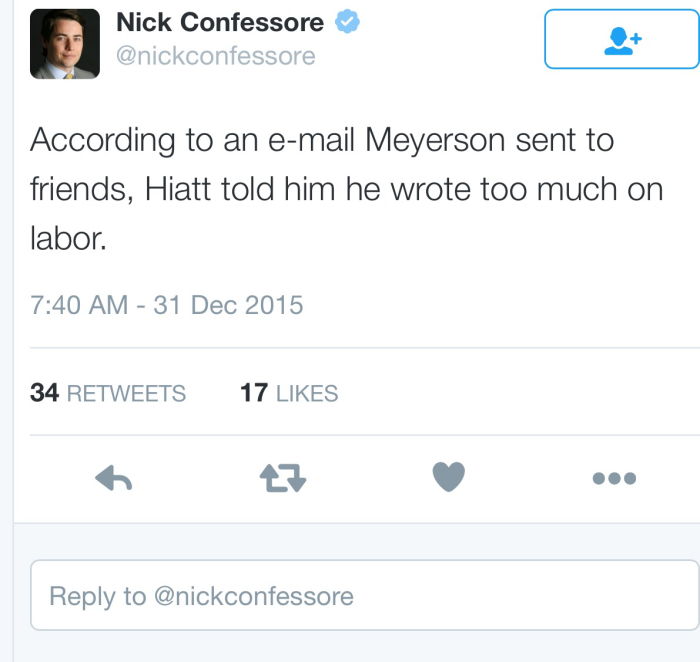 Yeah, it's like I always say - if there's one thing I hate about the national media, it's the excessive focus on labor issues.
Meanwhile, across the op-ed page, George Will is soiling his bedclothes with verbal diarrhea like this (George doesn't realize he's chasing the kids off of a lawn that exists only in his demented mind. Anecdote/data fallacy, etc.). And Robert Samuelson continues to write the same anti-entitlements column over and over again.
Let's be real here, folks: Meyerson got fired because Hiatt doesn't believe labor is worth writing about. Period.
I'm really hoping my next Post endorsement interview is with Fred Hiatt (the one with fellow neo-con Charles Lane was a surreal hoot). Suggestion to Hiatt: wear some fire retardant clothing.